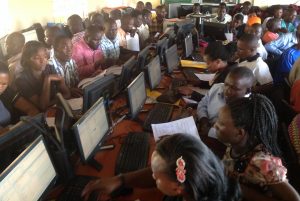 With rapid changes in the ICT field, teachers are finding themselves unable to cope. Coupled with new changes in assessment, the pressure is on for teachers to catch up.
ScS responded to the challenges and collaborated with Ministry of Education and Sports to deliver a one week workshop for teachers.
Unlike previous workshops that focused on very many issues, this workshop focussec on three key areas that are particulary troublesome to teachers
– Advanced aspects of database management such as calculated querries
– Introduction to computer programming
– Advanced aspects of assessment, particulary setting of Practical Theory Questins.
This focussed approach was much uappreciated by teachers who said that it took them to the next level.
The workshop was conducted at the National In-service training center at Kololo Senior Secondary School.
Retooling of Teachers to Teach ICT/Computer Studies