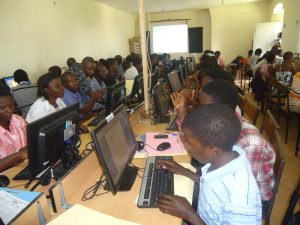 In partnership with Disciples' Fellowship Church, Bukoto we conducted a one week ICT training workshop for youths and women from Bukoto area.
The training attracted 60 participants identified by the Church and was intended to enhance the computer and business skills in the community. This free training was a partnership between Kololo Senior Secondary School (who provided the venue), Disciples fellowship Church (who mobilised) and Sustainable Change Solutions (who conducted the training).
Participants carried their own food and notebooks to the training venue
During the closing ceremony, Pastor Tom commended the great work done by ScS in reaching out to the community and hoped that the partnership ushered in would continue.
Computer Training for Bukoto Youths and Women